The Importance of Hiring a Wrongful Death Attorney
May 10, 2023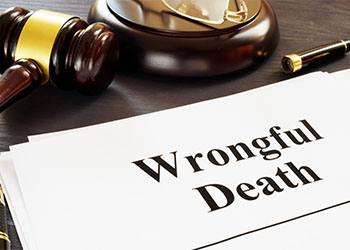 Losing someone close to you can be unsettling and heartbreaking, especially if it was caused by someone else's negligence. According to Washington State law, the decedent's surviving loved ones may be entitled to pursue fair compensation for their loss through a wrongful death claim. While you may decide to handle your claims on your own, hiring an experienced wrongful death attorney has several benefits and can make a significant difference in your claims.
At The Law Office of Dan N. Fiorito III, I provide support and represent clients in their wrongful death claims. As a practiced Washington State personal injury attorney, I can examine the facts of your case during these challenging times and walk you through your wrongful death claims.
In addition, I will protect your family's best interests, help you hold the responsible party accountable, and seek the financial justice you deserve. My firm proudly serves clients in Seattle and across all of Western Washington, including the Puget Sound Area, Bellevue, Tacoma, and Everett.
What is a Wrongful Death Claim?
A wrongful death lawsuit is a civil action filed against a person who negligently, recklessly, or wrongfully causes someone else's death. Some reasons to file a wrongful death claim include:
To honor the decedent's memory and pursue deserved justice for your deceased loved one.

To pursue financial compensation and damages for your unexpected loss.

To hold the at-fault party accountable for their reckless or wrongful actions.

To serve as deterrence and prevent such an unfortunate event from happening to another family or individual.
Essentially, no amount of financial compensation may be sufficient to replace the loss. Regardless, the decedent's survivors can seek rightful justice and recover the much-needed financial boost following the unforeseen loss.
Who Can File a Wrongful Death Claim in Washington?
In Washington State, only the personal representative or the executor of the deceased person's estate may be eligible to file a wrongful death claim. If the person died intestate (without a will), the Washington court will appoint an executor. Also, in the event that the decedent was a minor, a parent or legal guardian – who regularly contributed to the child's support – may bring the wrongful death action.
Why You Should Hire a Wrongful Death Attorney
Here are some reasons to hire a skilled wrongful death lawyer to help file your claims:
Extensive Legal Knowledge
Wrongful death attorneys are highly knowledgeable and have an in-depth understanding of the state's wrongful death laws and rules. Using their extensive legal knowledge, they can help you navigate the legal system and complicated claims process.
Experience Collecting Evidence
In addition, wrongful death attorneys have experience investigating and gathering evidence. Your lawyer can conduct a thorough investigation and help gather the necessary evidence and required documentation to establish your claims. Thus, preventing errors and delays in the claims process.
Offer Strength and Support
The death of a loved one can be an overwhelming experience. A wrongful death attorney can offer you and your family members the strength and support you need to bear the loss. Also, your lawyer will use an emphatic approach to work diligently on your wrongful death claims.
Allow You to Focus On Grieving/Healing
Losing a loved one can be a difficult period for you and your other family members. Filing a claim and dealing with court proceedings while grieving may be extremely challenging. Thankfully, an attorney can handle the case on your behalf while you focus on healing.
Skilled Negotiators
Wrongful death attorneys have several years of experience negotiating with insurers. The lawyer will handle all discussions and negotiations with the insurance company on your behalf and help you recover the maximum available damages.
Save You Time, Money, and Stress
However, wrongful death cases are physically and emotionally draining and can stretch over an extended period. A wrongful death attorney can handle every aspect of your case, including collecting evidence, gathering documents, filing claims, negotiating with insurers, or going to court. Thus, saving you time, money, and stress.
An experienced Washington State wrongful death attorney can walk you through the claims process and ensure that you file your case within the specified time limit.
Time Limit for Filing
Furthermore, the statute of limitations for wrongful death claims in Washington State is three (3) years of the victim's death. Hence, a wrongful death action must be filed within three years from the date the person died.
Get the Support You Need
Losing a family member in a negligent accident can be difficult and overwhelming. Nonetheless, you don't have to experience the pain and financial liability all alone. Here at my firm, I am dedicated to offering compassionate representation and personalized legal counsel to clients in their wrongful death cases.
Using my broad knowledge, I can direct you through the often-complicated procedures involved in filing wrongful death claims and recovering damages. Above all, I will advocate for your loved one's best interest and help pursue fair financial compensation to cover outstanding medical bills, funeral and burial expenses, loss of consortium, lost wages, and other possible damages.
If you have lost a family member, parent, child, spouse, or sibling, contact me at The Law Office of Dan N. Fiorito III today to arrange a case assessment. I have the vigorous representation and support you need during such a grieving period. My firm proudly serves clients in Seattle and across all of Western Washington, including the Puget Sound Area, Bellevue, Tacoma, and Everett.